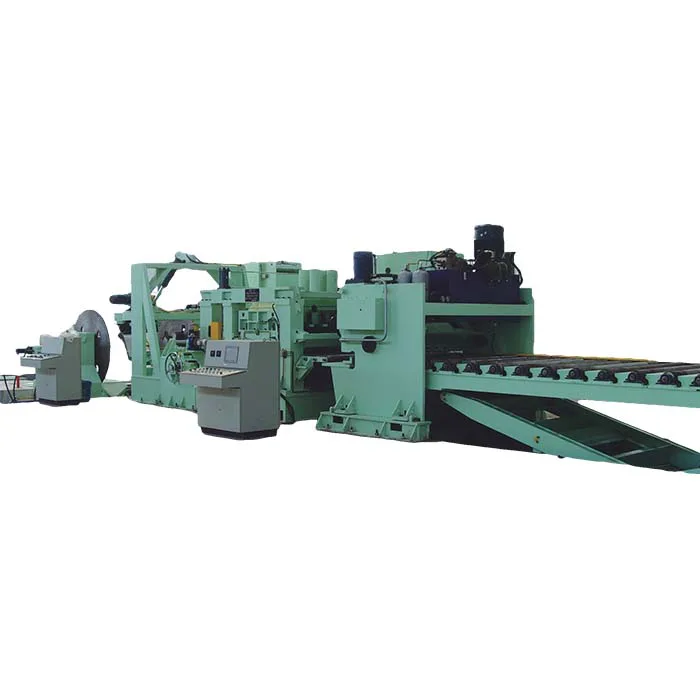 Steel Coil Cut to Length Line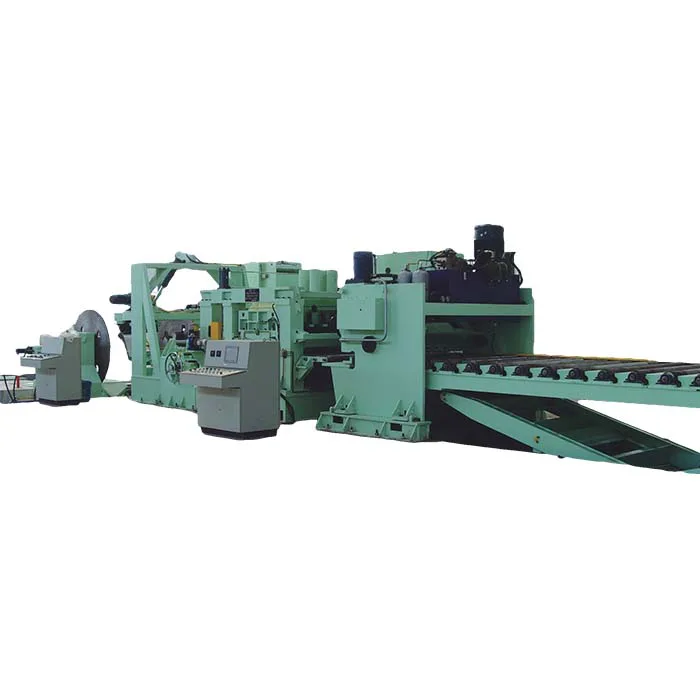 Steel Coil Cut to Length Line
Cutting line for cutting flat rectangular blanks from main coils. For widths of up to 3000 mm, thicknesses of up to 25 mm and speeds of up to 150 m/min.
The lines can be supplied with start-stop shears, flying shears, rotating shears or continuous direct feed. Air cushion, bomb-door type, electromagnetic or vacuum stackers. High-precision levellers of four, five and six heights, computer controlled. Edge trimming may be incorporated..
Totally computer-controlled with diagnosis, automatic coil feed and quality control.
For carbon steel, exposed and non exposed material, stainless steel, pre-painted steel, aluminium and other metals.
Customized machine productivity.
Customized machine fabrication cost.
Customized machine production accuracy.
Customized machine configuration.
Customized machine footprint.
MODEL
THICKNESS (mm)
WIDTH (mm)
INNER DIAMETER (mm)
OUTTER DIAMETER (mm)
COIL WEIGHT (T)
TRANSVERSE CUTTING SCOPE
(mm)
LENGTH PRECISION (mm)
DIAGONAL
PRECISION (mm)
PLANENESS (mm/?O)
SPEED
(m/min)
MAIN POWER (kw)
FLOOR SPACE
(m)
2.0×500
0.2-2.0
200-500
Φ508
≤Φ1200
≤6
300-1500
≤±0.5
≤±0.8
≤1.5
15~50
~75
16×4
2.0×650
0.2-2.0
200-650
Φ508
≤Φ1200
≤6
300-1500
≤±0.5
≤±0.8
≤1.5
15~50
~75
16×4
2.0×1300
0.3-2.0
500-1300
Φ508/610
≤Φ1500
≤15
500-3500
≤±0.5
≤±0.8
≤1.5
≤50
~95
22×7
2.0×1600
0.3-2.0
500-1600
Φ508/610
≤Φ1600
≤15
500-4000
≤±0.5
≤±0.8
≤1.5
≤60
~122
22.5×8
2.6×1850
0.5-2.6
400-1850
Φ508/610
≤Φ1500
≤20
400-4000
≤±0.5
≤±1.0
≤1.0
8~80
~180
25×9
3.0×1600
0.3-3.0
500-1600
Φ508
≤Φ1500
≤20
500-4000
≤±0.5
≤±1.0
≤1.5
≤40
~90
23×8
4.0×1600
0.6-4.0
600-1600
Φ508/610
≤Φ2000
≤20
1000-12000
≤±1.0
≤±1.5
≤2.0
≤50
~100
30×8
6.0×1600
1.0-6.0
600-1600
Φ508/610
≤Φ2000
≤30
1000-12000
≤±1.0
≤±1.5
≤2.0
≤30
~155
35×8
8.0×1600
2.0-8.0
600-1600
Φ508/610
≤Φ2000
≤35
1000-12000
≤±1.0
≤±1.5
≤2.0
≤20
~180
25×8
9.0×1600
2.0-9.0
600-1600
Φ508/610
≤Φ2000
≤20
1000-12000
≤±1.0
≤±1.5
≤2.0
≤20
~170
25×8.5
10×1600
2.0-10
800-1600
Φ508-Φ760
≤Φ2000
≤35
1000-12000
≤±1.0
≤±1.5
≤2.0
≤30
~240
42×8
12×2000
3.0-12
1000-2000
Φ508-Φ760
≤Φ2000
≤35
1000-12000
≤±1.0
≤±1.5
≤2.0
≤16
~255
50×10
12×1800
3.0-12
800-1800
Φ508-Φ760
≤Φ2200
≤35
1000-12000
≤±1.0
≤±1.5
≤2.0
≤16
~255
50×10
16×2000
4.0-16
1000-2000
Φ610-Φ760
≤Φ2200
≤35
1000-12000
≤±2.0
≤±3.0
≤2.0
≤12
~275
50×10.5
20×2200
5.0-20
900-2200
Φ610-Φ760
≤Φ2200
≤35
1000-12000
≤±2.0
≤±3.0
≤3.0
10~16
~220
29×9.6
22×2200
5.0-20
900-2200
Φ610-Φ760
≤Φ2200
≤35
1000-12000
≤±2.0
≤±3.0
≤3.0
10~16
~220
29×9.6
25×2200
5.0-20
900-2200
Φ610-Φ760
≤Φ2200
≤35
1000-12000
≤±2.0
≤±3.0
≤3.0
10~16
~220
30×11