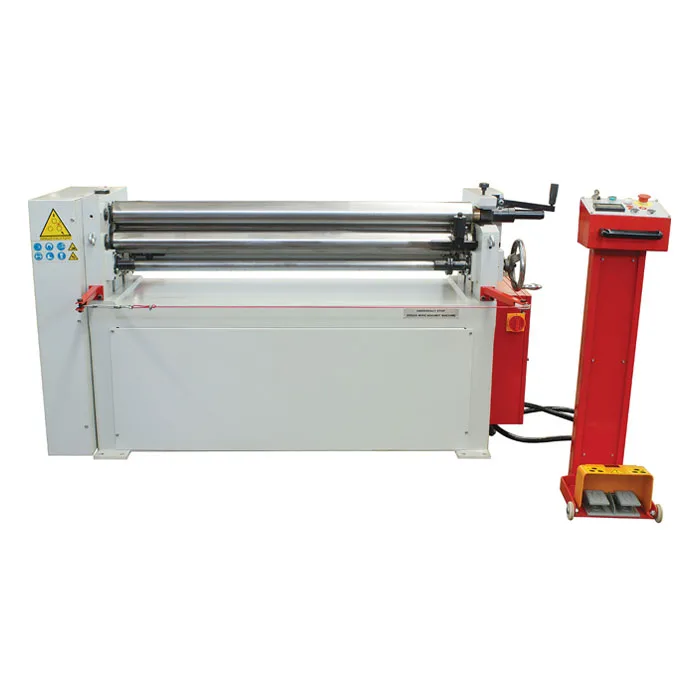 Slip Roll Bending Machine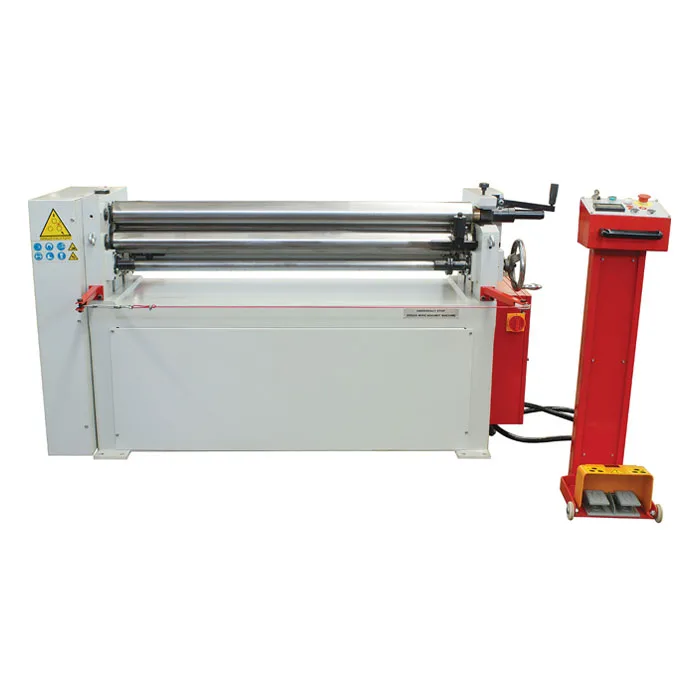 Slip Roll Bending Machine
Driven and rollig by a geared motor, this electric slip roll bending machine is the best helper for sheet metal processing work. Small footprint, easy operation and maintenance, high cutting precision, and low machine use cost.
Initial pinch rolls with pre-bending.
Motorised up & down rear curving roll enables quick & easy pre-bending.
Digital readout display on rear curving roll position.
Mobile foot pedal control with digital readout display.
Two rolls are powered by reduction gearbox drive system.
Swing out top roller enables cone or cylinder to be removed.
Safety wire interlock system with emergency shut-off.
Rolls include wiring grooves.
Includes a conical bending guide roller.
Mild steel capacity is rated on hot rolled material with 250MPA.
| | | | | | | |
| --- | --- | --- | --- | --- | --- | --- |
| MODEL | SR-2.5X1300 | SR-4.5X1300 | SR-4X2000 | SR-6.5X1300 | SR-6X2550 | SR-6X3100 |
| Curving System Type | Initial Pinch | Initial Pinch | Initial Pinch | Initial Pinch | Initial Pinch | Initial Pinch |
| Curving Material Length | 1300 mm | 1300 mm | 2000 mm | 1300 mm | 2550 mm | 3100 mm |
| Curving Plate Thickness - Mild Steel | 2.5 mm | 4.5 mm | 4 mm | 6.5 mm | 6 mm | 6 mm |
| Minimum Rolling Diameter | 135 mm | 180 mm | 225 mm | 225 mm | 400 mm | 400 mm |
| Roll Diameter | 90 mm | 120 mm | 150 mm | 150 mm | 190 mm | 190 mm |
| Motor Power | 1.1 Kw | 2.2 Kw | 2.2 Kw | 2.2 Kw | 5.5 Kw | 5.5 Kw |
| Voltage / Amperage | 380 V | 380 V | 380 V | 380 V | 380 V | 380 V |
| Dimensions (LxWxH) | 1800 x 640 x 1000 mm | 1810 x 640 x 1050 mm | 2530 x 740 x 1200 mm | 2300 x 800 x 1340 mm | 4160 x 900 x 1200 mm | 4710 x 900 x 1200 mm |
| Floor Space (L x W x H) | 1855 x 1030 x 1000 mm | 1855 x 1030 x 1050 mm | 2695 x 1050 x 1215 mm | 1995 x 1050 x 1215 mm | 4160 x 900 x 1200 mm | 4710 x 900 x 1200 mm |
| Shipping Dimensions (L x W x H) | 1770 x 740 x 970 mm | 1770 x 740 x 1010 mm | 2530 x 740 x 1200 mm | 1930 x 730 x 1160 mm | 4160 x 900 x 1200 mm | 4710 x 900 x 1200 mm |
| Nett Weight | 645 kg | 855 kg | 1620 kg | 1320 kg | 3200 kg | 3900 kg |