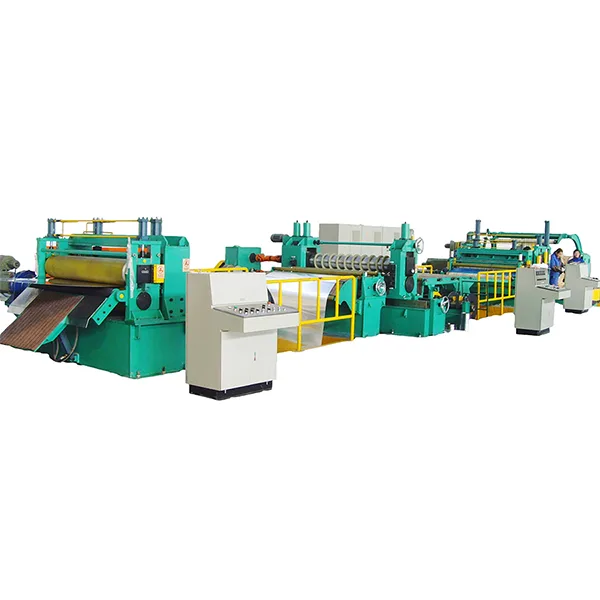 Slitting Machine Line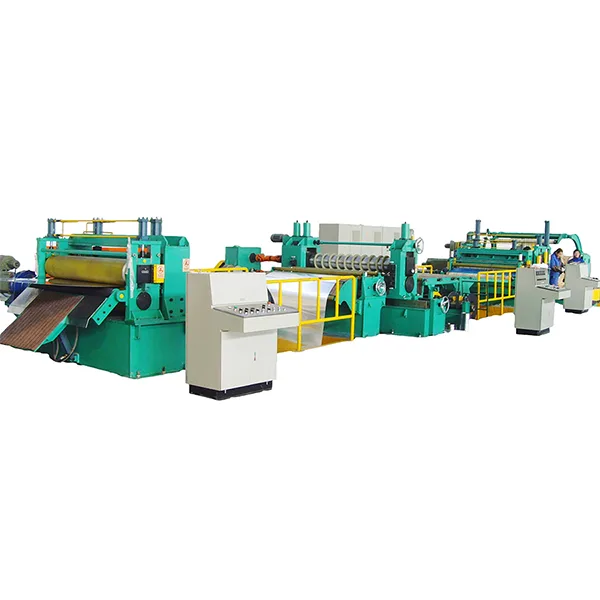 Slitting Machine Line
Slitting line machine for cutting narrow coils from main coils. For widths of up to 3000 mm, thicknesses of up to 25 mm and speeds of up to 120 m/min or more.
The slitting lines are composed of high-precision slitters with quick tooling change for slitter, tensioning device and recoiler. High-capacity recoilers . Extraction from coils without banding. Scrap ballers or scrap choppers. Moving tensioning devices with incorporated levelling.
Totally computer-controlled with diagnosis, automatic coil feed and quality control.
For carbon steel, exposed and non exposed materials , stainless steel, pre-painted steel, aluminium and other metals.
Customized machine productivity.
Customized machine fabrication cost.
Customized machine production accuracy.
Customized machine configuration.
Customized machine footprint.
Item
Model
Process Material
Thickness (mm)
Width (mm)
Inner Diameter
(mm)
Outter Diameter (mm)
Coil Weight (T)
Width Precision (mm)
Slitting Quantity (pc)
Slitting Width (mm)
Speed (m/min)
Main Power (kw)
Floor Space
(m)
1
1.0×360
1. Mild steel
2. Stainless steel
3. Copper
4. Aluminum
5. Special Steel
0.1-1.0
100-360
Φ250/Φ300
Φ400/Φ500
≤Φ1200
≤2.5
≤±0.05
≤12
≥6
≤60
≤45
8×3
2
1.2×500
0.15-1.2
100-500
Φ300/Φ500
≤Φ1200
≤3
≤±0.05
≤14
≥20
≤120
~80
8×3
3
2.0×650
0.2-2.0
150-650
Φ508
≤Φ1500
≤6
≤±0.05
≤16
≥20
≤180
~96
11×4
4
2.0×1000
0.2-2.0
300-1000
Φ508
≤Φ1500
≤15
≤±0.05
≤24
≥20
≤180
~96
12×5
5
2.0×1250
0.15-2.0
500-1250
Φ508
≤Φ1500
≤15
≤±0.05
≤24
≥20
≤180
~160
12×6
6
2.0×1600
0.2-2.0
500-1600
Φ508/610
≤Φ1500
≤20
≤±0.05
≤32
≥20
≤200
~240
22×7
7
3.0×650
0.2-2.0
200-650
Φ508/610
≤Φ1500
≤15
≤±0.05
≤12
≥20
≤150
~180
22×7
8
3.0×1250
0.3-2.75
500-1250
Φ508/610
≤Φ1500
≤15
≤±0.05
≤12
≥20
≤180
~205
22×6.5
9
3.0×1600
0.4-3.0
600-1600
Φ508/610
≤Φ1500
≤20
≤±0.05
≤24
≥30
≤120
~230
23×7.5
10
4.0×1600
0.5-4.0
800-1600
Φ508/610
≤Φ1500
≤25
≤±0.1
≤24
≥30
≤120
~220
25×7.5
11
6.0×1250
1.0-6.0
500-1250
Φ508/610
≤Φ1500
≤15
≤±0.1
≤24
≥30
≤60
~220
28×7.5
12
6.0×1600
1.0-6.0
800-1600
Φ508/610
≤Φ1500
≤25
≤±0.1
≤24
≥40
≤50
~220
28×10
13
9.0×1600
2.0-9.0
800-1600
Φ508/610
≤Φ2000
≤25
≤±0.1
≤12
≥60
≤40
~265
28×10
14
12×2000
3.0-12.0
1000-2000
Φ508/610/760
≤Φ2000
≤35
≤±0.5
≤6
≥200
≤20
~285
36×10